Things to take when driving in Austria
Driving, of course, is the best way to crisscross Austria, going up and down its scenic mountain valleys and along its vast mountain passes. It's one of the greatest countries in the world for scenery. That applies only to the summer months. Driving conditions in Austria can be difficult in winter.
Renting a car is not the most economical way to see the country; by train or bus is cheaper. All main roads in Austria are hard-surfaced. There's a four-lane Autobahn between Salzburg and Vienna; and between Vienna and Edlitz the Autobahn has six lanes. Part of the highway system includes mountain roads. In summer, driving conditions are good, but in winter, December through March, motorists must reckon with snow on the roads and passes at higher altitudes. Don't take chances. Ask about road conditions before you start on a trip. This information is available in English 7 days a week from 6am to 8pm from the Österreichischer Automobil (tel. 0810/120-120;www.oeamtc.at).
What do I need to drive in Austria?
Age requirements – You must be at least 18 years old to rent a car from most rental car companies in Austria. Drivers under 25 may have to pay a "young driver" surcharge and may not be able to rent certain car models.
License requirements – To drive in Austria, it is recommended to get an International Driving License (IDL,IDP). Note that the IDP is only valid when used with your local valid license, so make sure to bring both. Driving licenses issued within the European Union are valid in Austria. You can easily apply for an International Driving license at www.idltrip.com The International Driver's License document helps to interpret your domestic government issued driver license and could be useful for car rental and car insurance.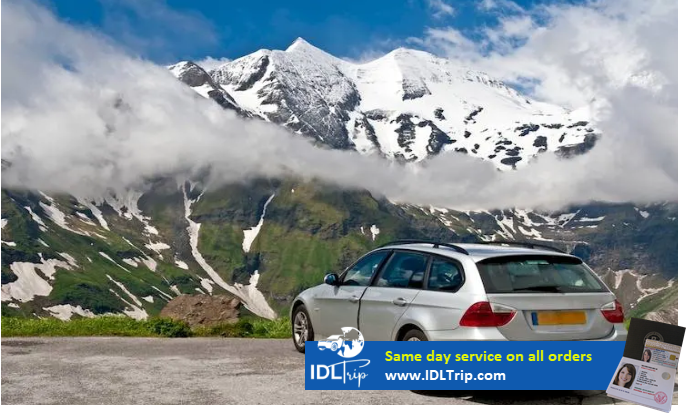 Other documents – Most rental car companies in Austria would require you to present your passport (or your national identification card if you're an EU citizen) and a credit card under your name when picking up the rental car. Generally, cash, debit cards, or prepaid cards are not accepted.
Driving Rules -- Traffic regulations are similar to those in other European countries where you drive on the right. Driving under the influence of alcohol is severely punished. The permissible blood-alcohol level is very low -- two beers or 8 ounces of wine can put you over the mark.
Use of seat belts is compulsory, and children under 12 may not sit in the front passenger seat unless a child's seat belt or a special seat has been installed. The use of hand-held cell phones is prohibited while driving, and a right turn at a red light is not permitted. Effective in late 2005, headlights must be on at all times day or night.
Motorcycles -- The same requirements for operating cars in Austria hold for operating motorcycles. Both drivers and passengers of motorcycles must wear crash helmets. Lights must be kept on when the vehicle is being driven.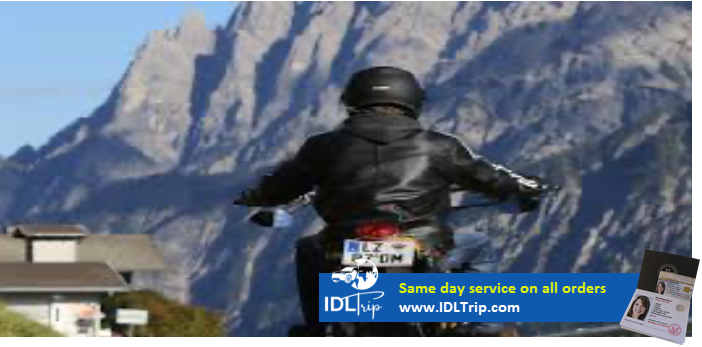 Breakdowns/Assistance -- If your car breaks down, foreign motorists can call the two auto clubs mentioned above. Call ARBÖ (tel. 123) or ÖAMTC(tel. 120) anywhere in Austria.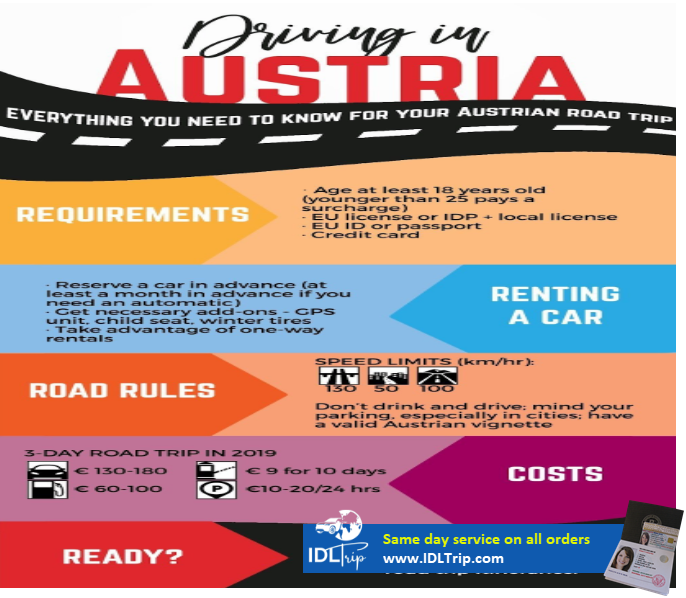 Austria drives on the right side of the road. Speed limits – Here are the normal speed limits you need to remember when driving in Austria: -Highways –130 km/hr (80 miles/hr) -Country roads – 100 km/hr (62 miles/hr) -In towns and cities / urban areas – 50 km/hr (30 miles/hr), unless otherwise indicated. Watch out for speed limit signs and cameras in motorways as well as in villages. Children – Children under 12 years and 1.5 meters of height may only ride in special child seats with the appropriate restraints. Seatbelts – Must be worn at all times. Parking – Blue zones are free parking spaces where vehicles can be left up to 90 minutes, or as indicated on a blue sign within the vicinity. If parking on a blue zone, you need to have a parking disc that shows your time of arrival. This is usually included in your rental car, or you can buy it from a petrol station. Tolls – To use the Austrian motorways / autobahn, you need to have a valid highway toll sticker or vignette displayed on the inside of the windshield of your vehicle. Most rental car companies within Austria will provide this automatically with your rental car, but verify this to be sure. Don'ts when driving – Don't drink and drive (maximum legal concentration is 0.05% Blood Alcohol Level), don't drive during winter without snow chains, don't park on a white line at a bus stop and in front of yellow/red lines or within 3 meters of a fire hydrant, don't turn right on red.
How do I rent a car in Austria?
Reserve a car online – Thanks to smooth roads and amazing sights, Austria is a popular road trip destination. Reserve your rental car online in advance to get the best models at the best rates. Take note that Europe mainly drives manual transmission cars, so if you require an automatic transmission car, make sure to reserve at least a month in advance.