Be your own boss - become an IDL agent.
Are you looking for an opportunity to maximize your earnings as a driver while providing travel services to others? Becoming an International Driver's License (IDL) agent could be the perfect career path for you! Being able to provide travelers with international drivers licenses unlocks global markets and creates a revenue stream that was previously unavailable. In this blog post, we will discuss the process of becoming an IDL agent so that you can unlock this exciting potential source of income! We want to introduce a special website which is designed specially for IDL Agents –https://www.idlagent.com/LandingPage.aspx.
It provides special services and long-term opportunities to build special relationships between you and your customers. It is very easy to operate and gives you the chance to reach your financial goal as well as the personal satisfaction to help many people in difficult situations and receive an international driving licence.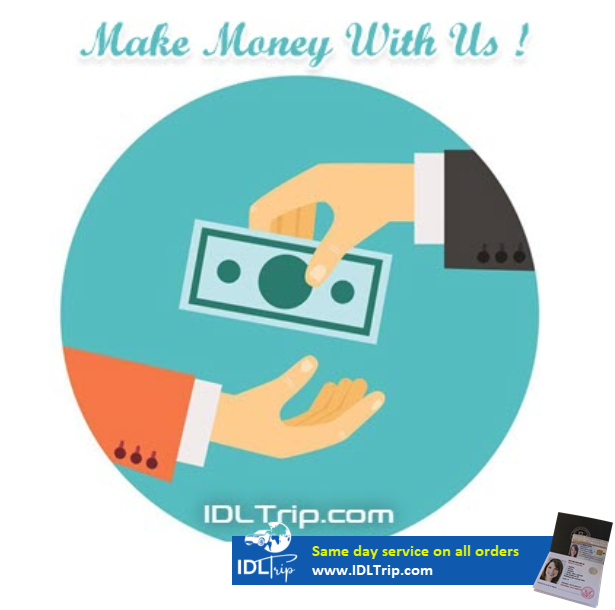 Advantages of being your own boss as an IDL agent
Have you ever dreamt of being your own boss, working from the comfort of your own home, and having the freedom to set your own schedule? If so, becoming an IDL agent could be the perfect opportunity for you. As an International Drivers License Online agent, you can enjoy all the perks of being your own boss while helping travelers obtain the necessary documentation they need to explore the world. A great advantage of this role is the flexibility that it offers; you can work part-time or full-time, and the best part is that you can do it from virtually anywhere. So, if you're wondering how to get an International Drivers License and want to start your journey as a self-employed agent, you're just one step away from achieving your dream!
Generating more income with an IDL agent business
Are you looking for a way to boost your income? Look no further than becoming an IDL agent online www.idlagent.com
With an international driving license, you can help others obtain the necessary documentation to drive in foreign countries. This not only provides a valuable service, but it can also serve as a lucrative business opportunity. By simply connecting with those seeking an IDL document and processing their applications, you can earn a commission for each successful transaction. Take advantage of the global demand for IDLs and become an agent today to start generating more income.
Benefits of offering convenient services to customers
Offering convenient services to customers can have a tremendous impact on a business. One of the advantages of providing these services is that it can save time and effort for customers. For example, offering an international driving license can be a convenience for those who travel abroad frequently. Rather than going through the often complicated and time-consuming process of applying for a license in each country they visit, customers can simply obtain an international driving license online that is valid in many countries. This not only saves time and hassle but also shows customers that businesses are willing to go the extra mile to meet their needs. Ultimately, offering convenient services can lead to increased customer loyalty and satisfaction.
Overview of International Driving License (IDL) and its benefits
Have you ever dreamt of driving abroad, whether it's on a road trip in Europe or cruising along the streets of Japan? Now, with an International Driving License (IDL), that dream can become a reality. An International Driving License document is simply a translation of your home country's driving license, allowing you to legally drive in over 150 countries worldwide. It's a must-have for anyone planning to travel and drive internationally. The benefits of having an International Driver's License are numerous, from avoiding language barriers to ensuring you have the proper documentation in case of an accident. So, before you hit the open road, be sure to apply for an International Driving License at www.idltrip.com and take advantage of its perks.
How to become an IDL agent?
Are you interested in becoming an IDL agent? This exciting career path offers the opportunity to work with international business partners and help facilitate global trade. To get started, the first step is to register at www.idlagent.com . The great part of this business that you could start without any money down. As soon as you register on – www.idlagent.com you'll enter the network of people who could decide for themselves how much time and where to work. You could go to the site directly or reach it through www.idltrip.com. With dedication and a passion for global commerce, you can achieve your goal of becoming a successful IDL agent.
You also receive complete instructions on how to make orders for international driver's licenses online for your customers, how to operate your account and most important you'll get approximately 40% discount on all products at the same time as your account will be activated. You should collect required documents from the customers and inform them about their rights and obligations to be familiar with the laws of the countries where they will be driving. You'll be able manage, renew, update, cancel and view all your orders and activities online.
All agent's orders ship at the same business day and you'll be able to track them on the agent portal through your account. It gives you tools and opportunities to provide quick and excellent service to your customers. The very dedicated team from IDL Trip customer support is committed to you and always here to answer all your questions by phone, email all through LiveChat.
An International Driving License (IDL) is a valuable asset in today's global economy. Becoming an IDL agent makes life easier for those who need to drive abroad but don't have time to apply for a traditional license. The steps to become an IDL agent are fairly simple and straightforward, and the advantages of being your own boss are plentiful. By offering this service, you can generate more income and provide customers with a more convenient option than going through the process at an IDL office. As you become a successful agent, it's important to remember that successful business management is key to managing a profitable business. In summary, becoming an International Driver's License Agent is advantageous in numerous ways not just from the convenience provided from customers perspective but also from your accounting perspective. There are so many potential benefits this form of online entrepreneurship can bring! And with proper planning and adequate research, you can become part of the growing network of online IDL Agent and truly help others make their driving dreams come true. So what are you waiting for? Take advantage of this amazing opportunity and start your own International Driver's License Agent business today! IT'S BENEFICIAL TO BE INTERNATIONAL DRIVER'S LICENSE AGENT ONLINE!
Click here to apply to be an Agent …