Get your best vacation ever with vital information on France driving law, safety features and charming country roads.
FRANCE DRIVING LAWS
France is one of the more regulation-heavy countries to drive in, and you need to keep in mind the following changes to the law:
Drivers with less than three years of experience have a lower blood alcohol limit of 0.2 grams per litre. For other drivers the limit is 0.5 grams. Our advice is simply this: don't drive after an alcoholic drink.
Motorcyclists must also carry reflective safety jackets.
It is now illegal to wear a headset for any purpose, even for the answering of phone calls. If you're a motorcyclist with an integrated headset in your helmet then you're exempt.
Paris has introduced a Low Emission Zone to improve air quality. Check to see if your trip takes you through it and what charges you'll have to pay.
TIPS FOR DRIVING IN FRANCE
You must have a valid driving licence issued in an EU or EEA country to drive a vehicle in France, and make sure your car has GB stickers on it or if you don't have it you need International Drivers Permit or International Driving Licence.
When driving in France, always carry the following documents:
Your driving licence
Your passport
Your V5C certificate
Your insurance documents
You must also carry these safety items, unless you're happy being slapped with a big fine:
Warning triangle
Reflective safety jackets
Breathalyser
Beam deflectors
Helmet with compliant reflective elements if you are riding a motorcycle
ROAD TYPES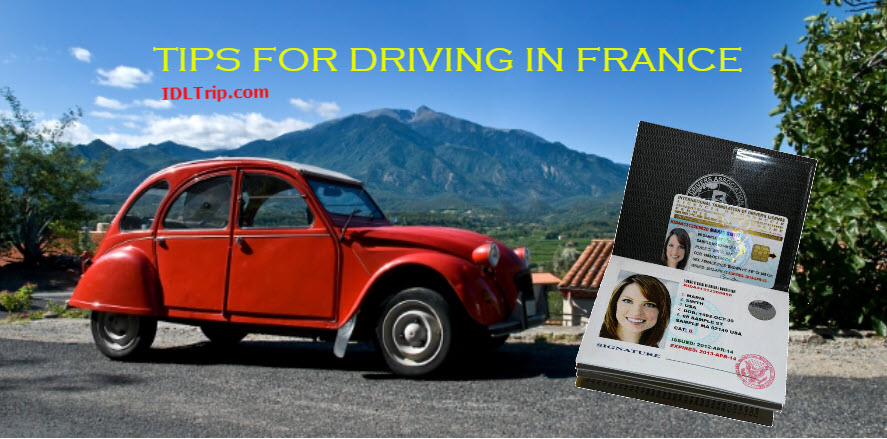 In France as in the UK the different types of roads range from the narrow single track country lanes right through to 8 lane motorways. Driving through historical towns and villages has its own difficulties and charm as they were obviously built many years before the motor car was invented and some of them are simply unsuitable for traffic.
Roads come in the following main types, Autoroute (Motorway) which has red number signs. "N" which are the National roads, "D" which are the departmental roads these have yellow number signs. You might also encounter "municipal" (white number sign) and "forestry" roads (green signs).
In the countryside and mountainous regions you may well come across less well maintained roads and worse driving conditions.
I personally prefer to avoid the motorways not just to save on tolls but because I particularly enjoy that type of driving. I enjoy the journey as much as the destination and have had some fantastic meals in small villages along my route.