Under 21? You can still rent a car .
In today's world of high technology, everyone wants to be free, mobile and independent. Renting a car while traveling allows you to fully realize your ambitions, but unfortunately, it's often available only to people who are over 25.
A commonly asked question concerns renting cars to 'under age' drivers. That generally means drivers under 21 but could be under 25 or 23 in some countries. As most countries allow young people to pass a test and drive at 17 or 18 years old, it would seem logical that it would also be easy to rent a car and drive abroad at this age. The main problem is that rental companies see young drivers as more of a risk and therefore can choose to apply a blanket ban on young drivers. So, what to do if you are a youngster, who wants to take advantage of car hire, but you're not yet 25? Don't despair though. It's often not impossible to rent a car abroad, it will just be more difficult and will probably cost more.
Hints and Tips for Renting a car Under 21 years old
-Though generally it's always a good idea to book your rental car before your trip, this may not be possible for young drivers. Its likely you'll have more chances with a 'walk in' booking, particularly at quiet times when the company may be more likely to take a risk on a young driver than have cars standing idle. This is especially true in holiday resorts where there are often multiple small companies competing with each other who may be desperate for some business.
-Go for the smallest, cheapest car available. Companies are more likely to take a gamble on a car which is worth less to them.
-Try smaller companies rather than the big internationals. A small 'one man band' can make his own rules and isn't tied to regulations set by head office. Most of the big companies seem to have a '20 and over' policy, though Hertz seem more flexible than the others at some locations and often have an 'over 18' policy on a restricted list of vehicles. https://www.hertz.com/rentacar/reservation/
-Check out whether someone could rent the car for you eg your company, college or a parent, and name you as an under age driver. In the USA, companies seem to have less restrictions on young drivers who are in the military so if you have a friend who is serving, maybe ask them if they can rent the vehicle. Expect to pay more for insurance – you may have to take 3rd party insurance only. Check the small print carefully and make sure you have the minimum insurance required by law. Remember you'll need a credit card to cover a deposit, but if using a small company they may want you to leave cash.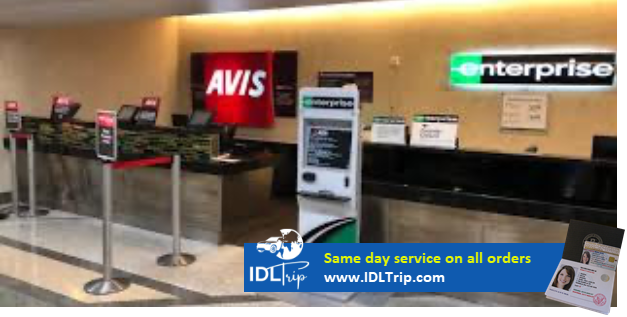 How old do you have to be to rent a car in the USA? Basically, the U.S. age policy suggests that the driver's minimum car rental age is 21 years old. Enterprise, Advantage, Sixt, Avis, Europcar, Budget, National and many other providers are authorized to rent cars for users who are 21-24 years of age and even younger. However, each rule has exceptions, and the pleasant news is that car rental under age 21 is at the disposal of youngsters. As stated by the age limits of Dollar, Hertz, and Thrifty, the driver's minimum age is 20 years old in order to pick up a car - this applies to most destinations in the United States.What about those who are under 20 years old? In most cases, young 18-19-year old travelers are banned from picking up a car on the United States territory. As an exception, the New York (NY) and Michigan (MI) States legislatures allow people under the age of 18 to drive rental transport. Also, special age conditions are enjoyed by military and official government employees for work needs. Those who fall under the action of government / military car rental under 21 rules can pick up a car starting at the age of 18 at any location in the USA and at special discount rates.
Which is the best under 21 car rental company in the USA? While examining car rental under 21 offers, in addition to the price we often compare some supplier's parameters such as the young driver's fee, the company's rating among customers, and also reviews on the quality of services. A good combination of these criteria allows you to count on a truly profitable offer. Among the global rental car companies under 21, Sixt and Dollar feature the most cost-effective deals. They are distinguished by the cheapest options for young drivers with a daily fee of only $15. If we look at suppliers in the context of various special promotions, then Hertz, Avis, and Budget allow canceling the under 21 fees for AAA and USAA members at all.
How to get a rental car under 21 in the United States?
Vigilant planning is the key to a headache-free journey. Therefore, get ready to meet established qualifications, and provide some important things so that car rental under 21 years of age with Rental24h.com will bring you only positive experience: 1.At least 20 year of age is required (18 when renting in NY or MI). 2.An actual license that has been used for more than a year without big endorsements needs to be provided. 3.A valid debit or credit card under the major driver's name is also a must-have thing.
Once you meet these preconditions, your under 21 car rental can be arranged in 3 easy steps: Rental24h.com allows you to count on savings. Here're some tips to make car rental cheaper: 1.Search for the hottest offers 1-2 weeks prior to the actual date 2.Try car rental offers from different providers 3.Choose compact, mini, or economy car 4.Use full-to-full fuel option 5.Compare the rates in the neighboring locations 6.Avoid one-way deals 7.Save with long-term rentals 8.Check out your insurance 9.Find additional discounts and promotions
How long must I have held my driving license to rent a car under 21 in the USA? The more you hold your driving license, the more competent driver you are, and the more the car rental dealer can trust you. This is the understanding that almost all suppliers stick to. Therefore, most agencies around the globe require that you have permission for at least 1 year before the current rental date.
Should I get an International Driving Permit to rent a car under 21 in the USA?
This simple document can greatly facilitate your travel process around America. If you were stopped by the police, or in case you need additional means of identification, then simply present your International Driving Permit.
An International Driving Permit is sometimes referred to as an international driver's license. In general, an IDP is an officially certified translation of your domestic driver's document that contains the major languages such as English, French, Spanish, Italian, and German. An IDP should be always provided along with your domestic license.
Where can I get an International Drivers Permit for under 21 drivers in the USA?
Probably your friends or acquaintances will say that your IDP can be pre-ordered online almost everywhere. Only two U.S. authorities can issue this type of document. They are the American Automobile Association (AAA) and the American Automobile Touring Alliance (AATA). The paperwork will cost you pretty cheap - little more than $20.
You can apply for an international driver's license online at www.idltrip.com