The United Arab Emirates is a country which is a melting pot of different cultures and welcomes people from different corners of the world. The cosmopolitan nature of the country demands a uniform set of traffic rules which needs to be followed strictly to provide seamless and smooth traffic conditions.
Driving in the UAE is on the right, i.e. the driver sits on the left of the car and on a dual carriageway, you'll be driving on the right side. The road system is modern and new, the style fast and confident, sometimes overly confident, bordering on the aggressive. You will encounter fast city driving, or if it's rush hour, total standstill. In residential areas, you might well be slowed down by a few goats or chickens, while outside the cities, it's desert conditions with sand dunes and/or camels on the roads providing the daily challenges. The good news is, petrol is cheap.
While taking part in the crazy traffic of the UAE, you have to keep the traffic rules in mind. Like in many countries, the minimum age for driving is 18, and you're only allowed to drive with a valid driver's license. Something that's also good to know is that the traffic moves on the right-hand side of the road and turning right on a red light is forbidden. Make sure you put your phone away, because using it while driving is not allowed — except when using a hands-free system. You should always wear your seat belt; this is mandatory for all people in the car. Children who weigh between 18–36 kg and are less than 145 cm tall should be seated in a booster seat. Children under the age of ten are not allowed to sit in the front seat.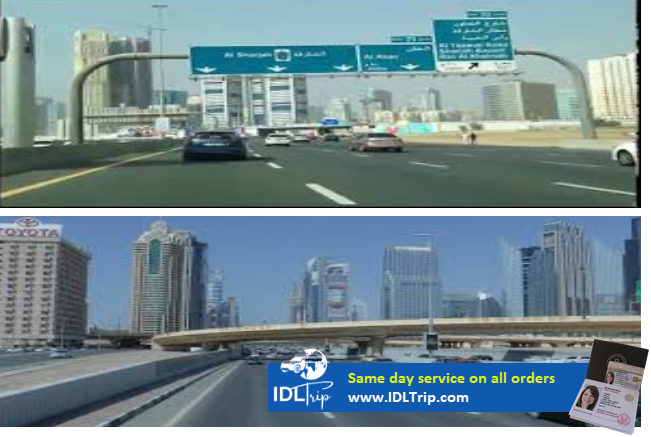 The last — but maybe the most important — traffic rule is that intoxicated or drunk driving is prohibited, regardless of the amount. The penalties for this are very serious — you face between one month and three years in jail
Speed limits on the roads in the UAE are as follows:
-highways: 100–120 kmph
-urban areas: 40–80 kmph
-residential areas: 40 kmph
Driving License The driver's license is valid up to 2 years for all citizens. Driving without license in UAE is entitled to the imprisonment of 3 months and/or fine of AED 5,000. The minimum driving age in the UAE is 18 years, and 21 years for renting a car. Tourists may hire and drive a car with either: -their national permit, depending on the country of origin -and/or with an International Driving License, for as long as their visas last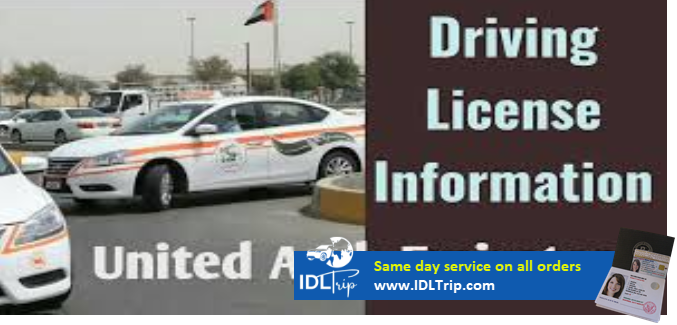 Please note that an International Driving Permit (often referred to as an International Driver's License www.idltrip.com ) does not replace the requirement for a regular driver's license. And you must carry your current overseas driver's license, IDP or translation with you all the time when driving in UAE. The International Driver's License is the document which helps to interpret your domestic government issued driver's license, useful for car rental and insurance in many countries. As a translation it gives an advantage for motorists who are traveling in foreign countries, allowing them to drive in different territories without experiencing language barriers.
Exchanging Your Foreign Driver's License Citizens from a number of countries can easily exchange their foreign driver's license without having to take a driving test or go to a driving school. These countries are as follows: -Australia, Austria, Bahrain, Belgium, Canada, Denmark, Finland, France -Germany, Greece, Ireland, Italy, Japan, Kuwait, the Netherlands, New Zealand -Norway, Oman, Poland, Portugal, Qatar, Romania, Saudi Arabia, South Africa -South Korea, Spain, Sweden, Switzerland, Turkey, United Kingdom, United States However, for some countries in the list, there are exceptions. Citizens from Canada, Cyprus, Greece, Japan, Poland, South Korea, and Turkey require a translation of their driver's license from their respective consulates. Also, citizens from Canada need a letter from the Canadian Consulate in Dubai to verify that their driver's license is legitimate before they can exchange their license. You'll need the following documents to exchange your driver's license: -a passport with a valid residence permit, original and copy -a copy of your residence permit -your current driver's license, original and copy -a translation of your driver's license (for the countries listed above) -a letter from your consulate (for Canadians) -one passport photo -an eye test certificate -360 AED for the transfer fee and opening a driving file Citizens from all other countries will have to take a driving course and pass a driving test before they can get their UAE driver's license. Please note that if you hold a driver's license for a country of which you are not a citizen, you will also have to follow this procedure to obtain a driver's license. If you are between 18 and 21 years old, you can apply for a probationary license.
Driving rules in the UAE General rules of driving in the UAE include obvious laws such as: -only use hands-free phones; -use your seatbelt; -place your children on the back-seat, in suitable child seats As driving is on the right, you overtake on the left-hand side. That said, many large roads in the UAE are freeways, so you can overtake on either side. You must keep in your car: -your insurance documents; -a warning triangle; -a spare wheel; -a fire extinguisher You must also have your driving license, car registration, and ID on you.
Road signs in the UAE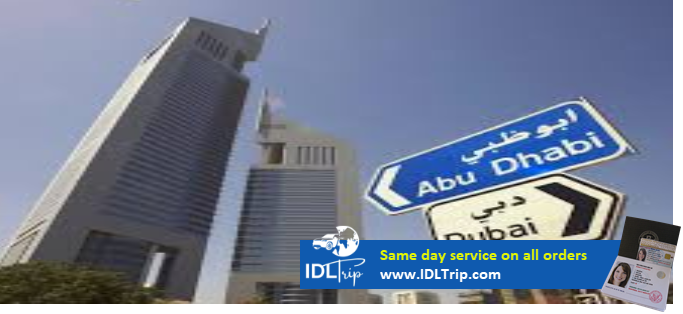 The road signs in the UAE are both in English and Arabic and are modeled on the British system. Mostly, if you have a driving license, they are self-explanatory.
Hiring a car in the UAE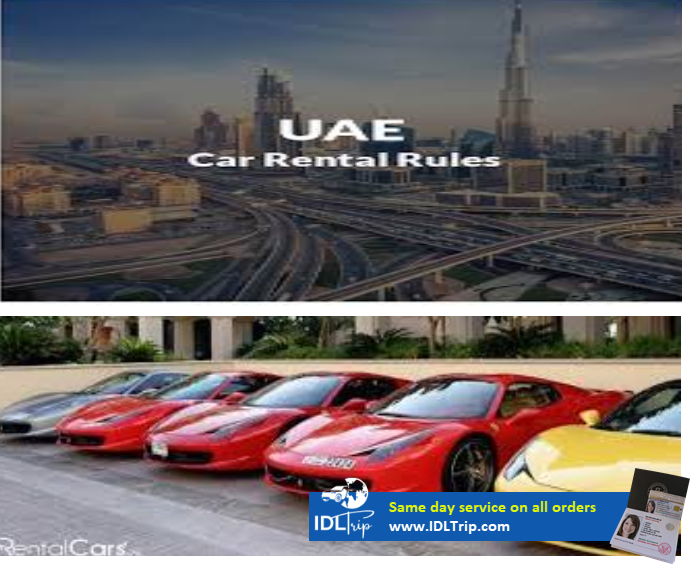 The UAE has all the known rental car companies, and then some. Most companies are represented in the airports, and as long as you are 21 years old and above and have held a driving license for at least one year, you can rent a car short term.
Tips on driving in the UAE
-Remember the zero tolerance on drunk driving at all times
-Refrain from swearing and hand signals at all times
-Drive confidently, and don't be surprised if you find a camel in the road, a lawn-mower driving toward you on the wrong side, or people reversing in a round-about. It is all part of the challenge.
-Be aware that during Ramadan, at Iftar time, people drive extremely fast to get home and eat, so best avoid driving for a little while.
-Rubbernecking is a problem on the roads. While it is illegal, it still causes huge delays around accidents. Don't do it.