Driving in Spain
The Spanish are not the most considerate of road users. When merging with a motorway, don't expect drivers to slow to let you on; you may have to stop at the end of the slip road. Many drivers show complete disregard for speed limits, and you may find some obstinate road users who deliberately straddle two lanes to prevent such speed freaks from passing. For these reasons, you may find it cheaper and easier to take the train.
In Spain, we drive on the right, safety belts are mandatory for all the occupants of the vehicle and there are speed limits on all roads. These are 120 km/h on dual carriageways and motorways, 90 km/h on all other roads and 30 km/h in built-up areas.
Other important rules are:
It is forbidden to talk on a mobile phone without a hands-free device or to handle one while driving.
Overtaking can only be done on the left side of the car which you wish to pass.
Children under 135 centimetres in height cannot sit in the front seat and they must always use an approved restraint system. It is recommended to use a restraint system with a back until the child is over 150 centimetres tall. These instructions also apply to taxis, so if you want to travel with a baby in a taxi, you must carry an approved restraint system.
If you drink, don't drive: blood alcohol levels must not exceed 0.5 g/l (0.25 mg/l in exhaled air).
Helmets must be worn on motorbikes, mopeds and bicycles.
Parking in public thoroughfares is not always permitted or free. In many cities the parking areas are regulated and subject to payment. Normally these can be identified by the presence of parking meters in the vicinity.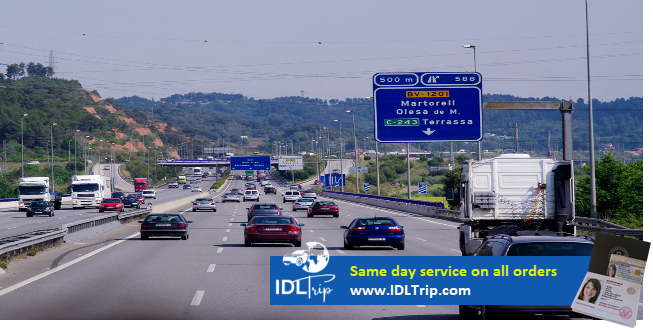 Driving Requirements
All European Union driving licences and international driving licences are valid in Spain. You can easily apply for an International driving licence at: www.idltrip.com . The IDL is useful for car rental and car insurance in many countries. International Driver's license is not a standalone, non-official document and valid only with your valid native driver license, therefore you need to carry both documents with you all the time. Remember that the latter is only valid for one year and to get one you must have a licence to drive in your country. The minimum age for driving in Spain is 18 years of age.
You must keep the following equipment in your vehicle while driving in Spain. If it ever occurs that you need to stop on the side of the road or hard shoulder (due to an emergency, accident or breakdown) use them.
Your drivers' license/ international driving license

The car's insurance documents.

Ownership or rental documents of the vehicle.

A reflective vest. Wear it if you need to get out of the car on the road or the hard shoulder).

Two warning triangles. Place one in front of your vehicle and one behind it after stopping).

A spare tire and tools necessary to replace it. 7.

A set of bulbs and tools necessary to replace the bulbs.
How to rent a car in Spain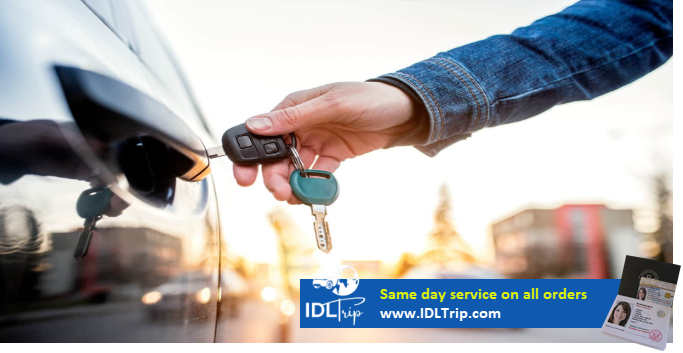 To rent a vehicle in Spain, you must be at least 21 years old and have a valid driving licence. Many companies also require you to have had your driving licence for a minimum of one or two years. To complete the car hire process, you will need a credit card. Remember that if more than one person is going to drive, the others must appear as additional drivers on the contract. Also, the rate tends to be higher for those under the age of 25. In Spain, it is usual for rental cars to have manual transmission and the rate for those with automatic transmission tend to be higher. When driving on a highway, don't overreact to cars flashing their headlights before overtaking you. It's the law! It's a warning sign to let you know they are about to pass. Intersections of two highways typically have a roundabout under the higher one. So you can use it as a U-turn (completely forbidden in Spain) in order to start driving in the opposite direction. Again, on a highway, never cross a solid white line. Wait for the broken line, and when overtaking, always indicate when you're pulling out and back in. Spanish authorities are strictly enforcing this law, so don't break it!
Parking in Spain
While parking is relatively easy in most rural towns and smaller cities, it can be difficult to find a spot outside of paid parking garages in major cities of Spain. Additionally, there are a few rules and laws governing where you can park that make it even more difficult to find a good parking spot:
-Parking is not allowed within 16 feet (5 meters) of a bend or intersection.
-In general, parking is permitted in blue parking zones called zona azul or zoa O.R.A., which are marked with signs in Spanish and have a maximum of two-hour limits during the day but no parking limits between 8 p.m. and 8 a.m.
-Cars must be parked on the right-hand side of the roadway, except on one-way streets, which may allow parking on both sides of the road.
-Paid parking spots typically have two-hour limits and are marked with signs and blue or green lines. These spots can be paid for at roadside meters or machines, or by using a mobile app in some cities.
Illegally parked cars may be towed, and in order to get it back, drivers will need to visit the nearest police station and pay the fine and all associated fees for towing and storing the illegally parked vehicle. Additionally, some municipalities use wheel clamps (known locally as cepo) to enforce the fine—especially on rental vehicles. If your car's wheel is clamped, you will need to visit the nearest police station to pay the fine and schedule for it to be removed.