A Guide to Driving in Thailand
Driving in Thailand is a good way to get off the beaten track, but there are a few things to be aware of before you hit the road. While hectic in places, especially main cities, Thailand's road system is generally quite good and well signposted with traffic signs, warning signs and regulatory signs in both Thai and English.Driving on open roads at night is not recommended, however, due to the increased number of heavy goods vehicles at this time.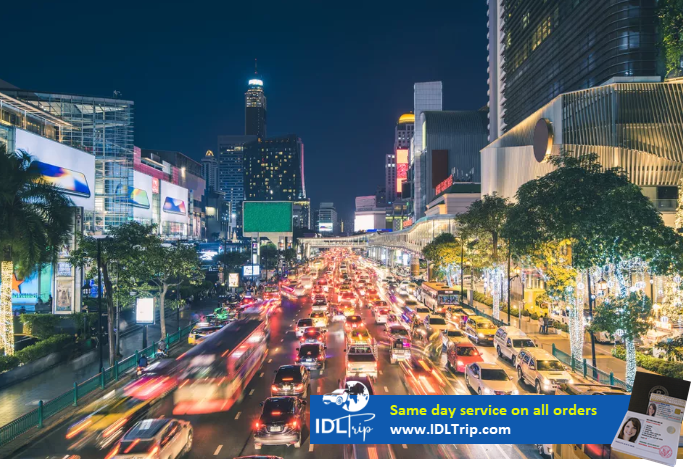 Driving Requirements
The most important thing to consider when it comes to driving in Thailand is to ensure that you have the right license for the vehicle you've chosen. Whether it's a car or a big bike, having a license that qualifies you to drive is the bare minimum precaution to take. Not only will it ensure you know how to drive in the first place, it'll keep you safe from the law too.
While it is legal to drive in Thailand with a valid licence from most countries, it's worth noting that most companies will not give you a car or provide you with insurance without an international driver's licence. This licence and a valid passport must be carried at all times while driving.
To drive a car in Thailand, you must be 18. If you plan to rent a car, you'll need to be at least 21, though the minimum age varies by company; you will also need to have had a driver's license for a minimum of a year and carry your passport with you. The driver's license from your home country might work, especially if it is in English and has a photo.
But since there is a risk of not being covered by insurance, you may want to get an International Driving Permit (an IDP, from your local automobile association). If you are in Thailand for more than six months, you should either have an IDP or a Thai license. Always carry your driver's license along with your passport when hitting the road—if you forget to bring these documents and are stopped by the Thai police, you can end up with a big fine. Also make sure you have your International Driving Permit in order before you head out.
Speed limits in Thailand
-Towns - 60 km/h
-Highways - 90-100 km/h
-Motorway - 120 km/h
Checklist for Driving in Thailand
-Driver's license (required)
-International Driving Permit (recommended)
-Passport (required)
Local knowledge
-In Thailand people drive on the left side of the road.
-While the traffic in Thailand can be pretty hectic, and many Thai motorists seldom obey local speed limits, the majority of drivers in Thailand are well-mannered and polite.
-On many rural roads (and even in some of Bangkok's small alleys) you'll occasionally happen upon motorcycles, cars and even 12-wheel trucks maneuvering against one-way traffic.
-It's illegal to drive topless in Thailand
Renting a Car in Thailand
Some major rental car companies operate in Thailand and have offices in the airport and most common tourist areas. There are also local car rental agencies. The cost will vary depending on the location in Thailand, as well as the size and style of the car. Make sure to specify you'd like an automatic car if you are not comfortable driving a stick shift.
Parking in Thailand
Typically in the big cities, especially Bangkok, it is difficult to find parking, so you may want to park your car a bit away from the city center and take public transportation to your destination. Many shops, malls, restaurants, and hotels offer parking, and it is typically not expensive (if not free). In very crowded areas—such as Siam Square in Bangkok—drivers are expected to leave their cars in neutral so that they can be pushed out of the way if necessary.
Rules of the Road
One difference from other parts of the world is that in Thailand, like in the United Kingdom, you drive on the left side of the road, and the driver's seat is on the right, so if you're visiting from the United States or another country where people drive on the right side of the street, initially this may feel awkward. In addition, it's helpful to familiarize yourself with some rules before you set out on the Thai roads.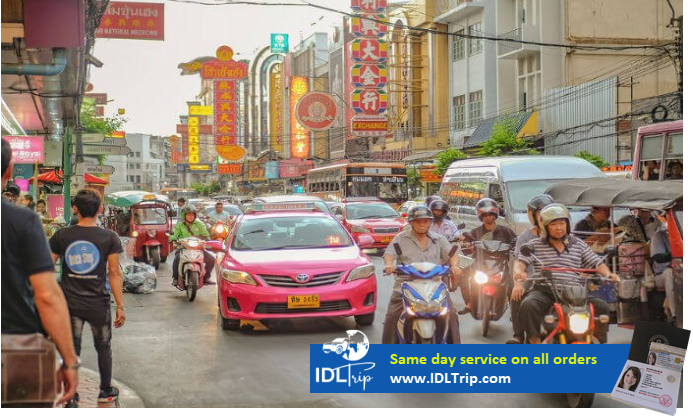 -Seat belts: Drivers and all passengers are required to wear seat belts. Those who don't comply may get a fine.
-Children and car seats: In modern taxis or cars, car seats may be able to be properly fitted. Unfortunately, older model cars may not have rear seat belts or the correct setup for attaching a car seat.
-Aggressive driving: Be aware that there are differences in driving etiquette before you get behind the wheel in Thailand. Tailgating and cutting people off is much more common and somewhat acceptable.
-Alcohol: The legal blood-alcohol limit for drivers who have had their license for over five years is 0.5 grams per liter of blood. Those breaking the rules may end up with fines and/or prison time.
-Cell phones: Unless you have a hands-free phone, it is illegal to use your mobile phone when driving in Thailand.
-Flashing lights: In Thailand, when a driver flashes their lights, they are letting you know they are not planning to stop and would like you to get out of the way. This is yet another reason to drive defensively.
-Honking: Despite the traffic in some areas, you won't hear frequent honking in Thailand other than some quick, friendly beeps making drivers aware of another driver's presence.
-Road Hazards : Thai road rules are probably much different than you're accustomed to. Since local roads are often filled with unpredictable traffic patterns and motorists, especially in the bigger cities, always be watchful of your surroundings and other drivers.