Guide to Driving In Bulgaria
Traveling Bulgaria by car is the best way to get around the country, especially if you want to visit remote villages or national parks. Before you hit the road, though, here are some things you need to know about driving in Bulgaria and suggested places to go to on the way.
When you're visiting Bulgaria, you're most likely to start your trip around the country in Sofia. Sofia is a great city to explore, but Bulgaria has a lot more to offer outside its capital city. If you want to explore more of the country, to visit some remote villages, national parks, or monuments, the most convenient option for you, for a comfortable and pleasant trip, is to rent a car in Sofia and make your own travel schedule.
The most convenient way to do that is to rent a car and be in charge of your own time and travel schedule. If you are on the lookout for some good car hire companies in Bulgaria, check Top Rent A Car Bulgaria. They provide nationwide car rental service through 8 offices and deliveries in every city and resort in Bulgaria as well as the main airports on the Balkans. You can choose a vehicle to take you to all those beautiful places I'm going to tell you about later on.
Driving Tips in Bulgaria
Although you can legally drive a car in Bulgaria after you turn 18, to rent a car, you must be at least 21 years old and have had a driving license for at least one year. The car rental company could also require insurance, a passport, and some paperwork. Make sure to check what would you need in order to rent a car in Bulgaria with the company you have chosen to rent a car from.
In Bulgaria, as in most European countries, you should drive on the ride side of the road and overtake from the left.
Seat belts are required for all passengers in the car, even for the ones on the back seats.
Children aged 12 or below are not allowed to sit on the front seat. Local people often break that rule and drive their kids in the front seat. However, as a foreigner, you better don't do it.
When you're traveling around Bulgaria by car, you should know that your headlights should be ON all the time, even during the day, all year round. This law was accepted a few years ago.
A vignette sticker is required when you drive outside of the city. Rental cars should have a vignette sticker, but make sure to double-check.
When driving in Bulgaria you should comply with the current speed limitations:
-50km/h (30 mph) inside the city limits;
-90km/h (55mph) outside cities;
-140 km/h (75mph) on motorways unless indicated otherwise.
The over-speeding is fined accordingly depending on the speed above the limit and the area you drive in (build-up areas or open roads). For instance, if you drive with up to 10 km/h more than what's allowed, the fine is 20 Bulgarian leva. Higher fines are applicable for greater violations of the speed limit. Keep in mind that many main roads have speed cameras installed.
All cars should be equipped with a warning triangle, reflective jacket, first-aid kit, and fire extinguisher.
The blood-alcohol limit in Bulgaria is 0.05%. Anything above that limit will get you a fine and you can even lose your license for six months to one year. For a bigger amount of alcohol in your blood, you can get into jail.
Most of the route signs in Bulgaria are written in both Cyrillic and Latin alphabets.
Why carry an IDP while driving in Bulgaria?
The necessary vehicle documentation for driving in Bulgaria is: registration card, annual technical inspection card and "third party liability" insurance.
Foreign driving licenses must be accompanied by a legalized international translation in Bulgarian or an international driver's license/permit (IDL/IDP). An IDP is available from the issuing country's road traffic authority or motoring organization such as the AA. You can have only one EU driving license at any one time.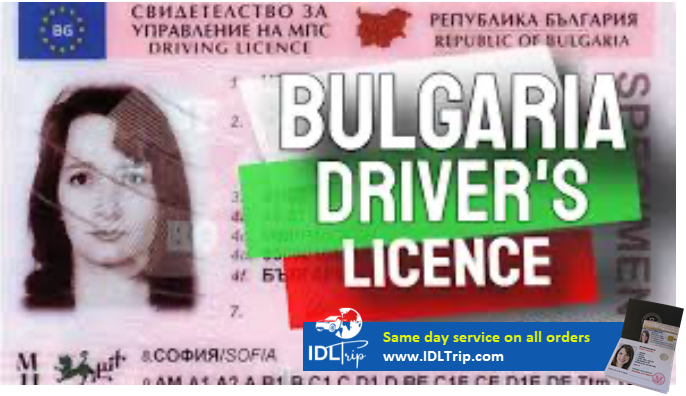 Your IDP is a valid form of identification in more than 150 countries worldwide and contains your name, photo and driver information in the 12 most widely spoken languages in the world – it is understandable to most of the local officials and authorities of the countries you visit.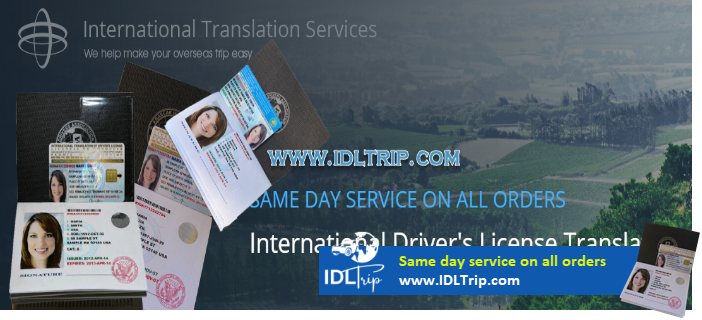 Bulgaria highly recommends to get an International Driving License at www.idltrip.com
The necessary vehicle equipment for driving in Bulgaria includes: first aid kit, fire extinguisher, spare tire, lifting tool, reflective/safety jacket, hazard triangle. There are many options for parking in Bulgaria and they should all be explored if you want to leave your car in a safe place. The best bet is to stay in a hotel and make use of their guarded parking. Even if you stay at a bed and breakfast then they may have a parking spot available so you should ask the owners about this. Although it might be okay to park your car anywhere in the countryside, you should stick to parking lots or parking spaces on main streets in the city for safety. Parking is quite cheap costing 2 Leva an hour up to 6 Leva a day. Long-term parking spaces can be rented for around 60 Leva a month.
Bulgarians Drive Aggressively
Driving mindlessly is a guilty pleasure in which Bulgarians love to indulge. Expect sudden and risky lane changes, including from the right side, drivers behind you flashing their headlights to get you out of their lane, blowing the horn out of nervousness, etc. Do not engage in road quarrels because there have been a few notorious road fights in the last couple of years that ended up with broken bones and cars smashed with hammers.
There are Lots of Potholes
The quality of the city streets, major roads, and even the highways is far from perfect with potholes all over. Drive carefully and keep an eye on the driver in front of you to avoid accidents.
TOP PLACES TO VISIT BY CAR IN BULGARIA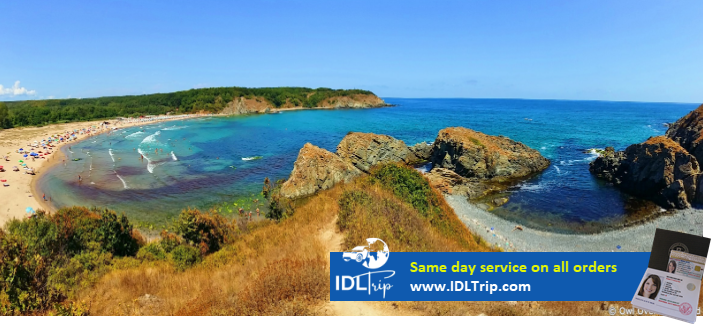 After you got all you need for a flawless driving experience in Bulgaria,it's time to get behind the wheel and start your road trip adventure. If you are looking for some interesting places to visit with your rented car, we recommend you to:
spend a day in Plovdiv

strolling around the Old Town and central alley and feel the atmosphere of one of the oldest cities in Europe.

visit the Buzludzha monument

and see one of the greatest abandoned buildings in the world looking like an UFO.

hike the 7 Rila Lakes

– a 2 hour drive south from Sofia will lead you to the spectacular 7 lakes in Rila. There, you can spend the day hiking and enjoying the mountain spirit surrounded by stunning views and, surprise, surprise, seven lakes.

visit Rila Monastery –

a UNESCO site and one of the most visited tourist attractions in Bulgaria – that speaks for itself.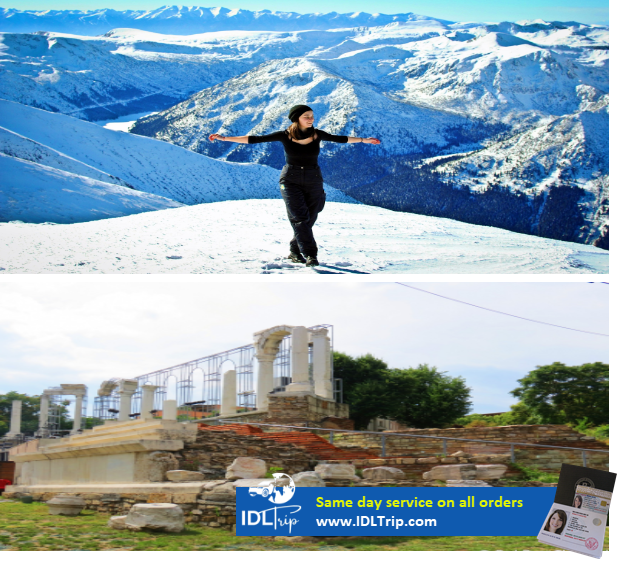 Getting the bus or the train from one place to another in Bulgaria may not be the best option. Driving a car will let you plan your stay in the country better and explore the lesser-known but more impressive sites.