TOP TIPS ON DRIVING IN BOTSWANA
Botswana is one of the safest countries in Africa. There are plenty of fun things to do in Botswana. Many of these are better reached if you have the freedom to move around at your own paces and with your own transportation. With that in mind, it's better to be well informed or have information on driving in Botswana before setting off. Majority of roads in Botswana are well paved, especially when it comes to intercity or major access routes in and out of the country. Also major roads in the towns centers are also paved. As soon as you leave those you do notice the road conditions change somewhat. Many have potholes as well as gravel roads. If you are straying off the main roads in Botswana or through the national parks, you'll require a 4x4 or off road vehicle. Driving at night should be avoided unless absolutely necessary, the roads are poorly lit (if at all outside of the cities) and stray livestock and wildlife often stray onto the roads, the size of such wildlife and livestock is likely to result in a major collision that could prove very dangerous.
Is Botswana safe as a country? Yes! But just like any other country out there, always watch your valuables when travelling. Don't leave valuables in the car, even when camping! Take your prized possessions with you. Just in case your car gets broken into. In large crowds watch your pockets. Other than that, Botswana is a friendly nation and people are welcoming.
Driving In Botswana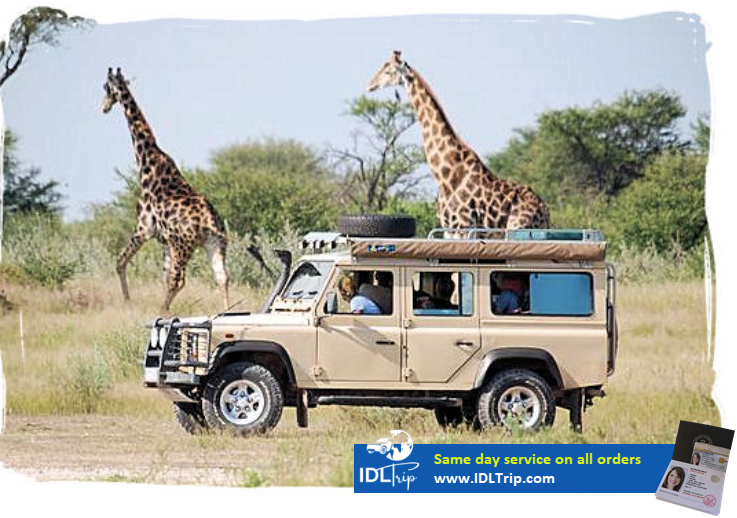 Driving in Botswana is on the left. The standard of driving is reasonably good and most roads in the towns, and the major arteries connecting these, are tarred and are usually in good condition. Away from the main arteries, the roads are simply tracks through the bush made by whatever vehicles have passed that way.
During the wet season some of these tracks can be virtually impassable. Travelling on these bush tracks at any time of year is slow and time consuming.The roads in Chobe National Park are largely sand tracks. In the dry season, its like driving through deep sand dunes and after heavy rain most tracks will be impassable.
If you intend to rent a vehicle to drive to Chobe you should tell the rental company where you're heading to ensure you have the correct equipment. Our advice, certainly if travelling alone would be to take a GPS device, and always let your campsite know where you're heading and roughly when you expect to return.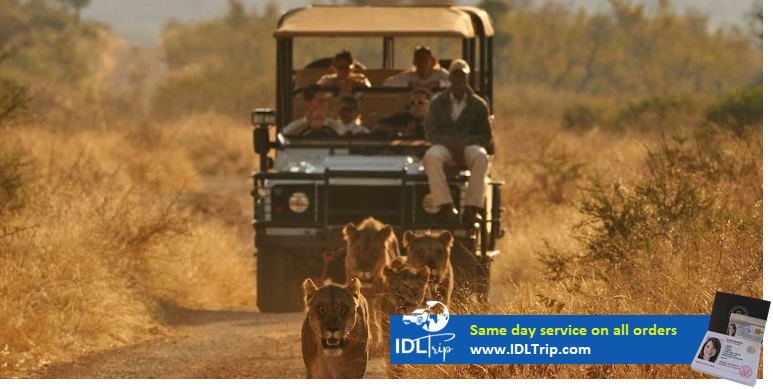 In Botswana's National Parks, the game roams freely and should always be given right of way . Elephants present the biggest risk, especially at night when they may roam on unlit roads- even major routes can be affected in the North near Chobe NP. If an elephant or group of elephants approaches you along a road, you should stop, but keep your engine idling. The elephants will generally pass you by at a safe distance, If they get too close, revving your engine slightly may ward them off. If approached by a bull elephant though you should be especially wary. If possible turn the vehicle so you have an escape route if it becomes aggressive.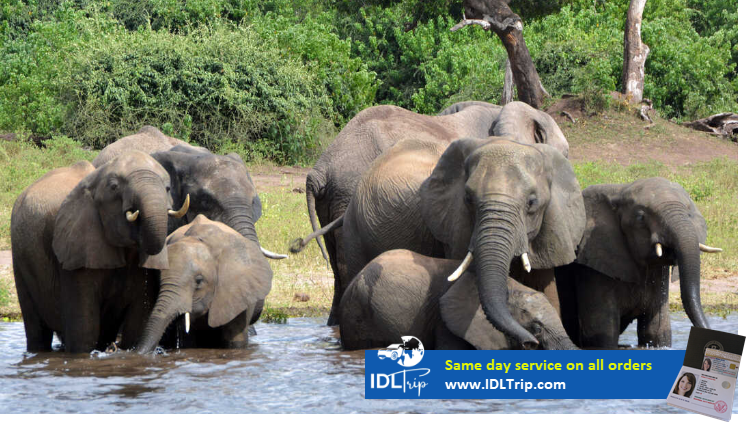 The speed limit for roads in Botswana: Majority of the roads are 60km/h in towns and villages and 80km/h on intersections and 120km outside of urban areas.
International driving license recognized throughout Africa
Visiting Botswana? Get an international driving license before you go at www.idltrip.com
The International Driver's License helps to interpret your domestic government issued driver license and could be useful for car rental and car insurance in many countries. It became a useful advantage for motorists who are traveling overseas and can drive in different territory without experiencing difficulties with various language barriers.
TOP TIPS FOR DRIVING IN BOTSWANA
Always make sure you have the correct paperwork for driving around the country or crossing borders. Also, have this to hand for random and frequent police check in and around the country.

Have your passport to hand when requested at checkpoints.

Never drive at night unless you really have to.

Always be on the lookout for stray animals whether driving in the morning, day time or evening.

Always check your car is in good running condition and you have spare tyres and pressure of tyres is in good condition.

Always have water in the car especially during the hot season not just for you but cars can sometimes overheat.

Always make sure your car is suitable for the journey and season. If doing a safari in the rainy season or for some national parks, rent a 4×4 or opt for local guided safari.

Always make sure your phones are charged before setting off should you need help.

Always make sure you are carrying some cash with you as not all petrol stations accept card payments.

Also check out these tips for planning a

self-drive safari

.
Botswana Car Rental
Hertz, Europcar, Alamo , National , Avis, Budget, have outlets here. Also usually features on some Car rental broker sites and Web discount sites such as ebookers.com. or Expedia
Botswana Self Driving Rules
Vehicles can generally be taken to neighbouring countries excluding Angola and Zimbabwe. Europcar charges to take cars to Namibia, Swaziland, Lesotho, Mozambique, & Zambia and also allow one way international rentals. Self Drive safari operators recommend doing some off road/4WD instruction but don't insist on this.